Neuro20 Technologies focuses on transforming health through scientific research-based practices utilizing Electrical Muscle Stimulation (EMS). We are proud to be led by a team of experts with knowledge expanding across many disciplines, with the collective goal of modernizing how technology is used to promote recovery and human performance by becoming the leading provider of advanced Whole Body (WB) wearable technology.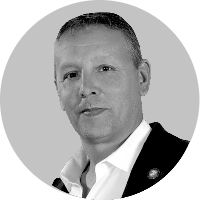 Dennis "DJ" Schmitt
Founder/CEO
As a disabled veteran I went on a journey to discover a way to recover from multiple injuries I received serving my country. After years of travel and research I discovered electrical muscle stimulation. I was surprised by the amount of research on EMS that already existed and could not understand why it was not being utilized for a wider variety of applications.
After a deep dive into the industry and working with multiple EMS companies as a Distributor, as a Board of Advisor, and Director, it became clear to me that research-based science, customer and technical support, business model, applications and indications for use were not sufficient in capturing what this technology could offer. The gaps left the EMS market to be primed for consolidation, improved upon and expanded.
My entrepreneurial background combined with years of industry experience solidified that so much more could be accomplished by developing the most advanced WB-EMS system to date. It became a mission to build a team of the best doctors, physical therapists, scientists, engineers, athletic trainers and corporate professionals to disrupt the industry. The Neuro20 PRO System was built from the feedback of the client and key opinion leaders across a broad spectrum of expertise. Our corporate practices provide a model that "efficiently" works for the distributor, clinician, and end user.